Simpson Bay
Simpson Bay offers sandy white beaches, bustling lagoon views filled with impressive yachts, and vibrant hot spots that embody the energy of St. Maarten. This historic fisherman town has evolved over the ages into a must-visit hotspot. In the past Simpson Bay was dotted with just a few settlements made up mostly of the island's fishermen, who would be visited by residents seeking to buy fish. While this activity still continues at the Simpson Bay Fish Market, Simpson Bay has transformed into a vibrant hotspot filled with dining, entertainment, world class marinas, thrilling water activities, and top-notch accommodations. 
The Simpson Bay Lagoon located in the center of Simpson Bay is one of the largest inland lagoons in the West Indies of the Caribbean, and is truly the center of the island. Much like the border between the French Side and Dutch Side is set on land, the very same goes for the lagoon, which has the border going right through its waters. Yachts of all different sizes are known to homeport in the Simpson Bay Lagoon, finding access to the lagoon through the Simpson Bay Bridge. The Causeway Swing Bridge is a scenic 220 feet long access road and walkway spanning the width of the lagoon connecting the French Side Marigot access point and Simpson Bay. The Causeway Swing Bridge is known for its iconic lagoon views of Simpson Bay, tinted with the amazing hues of pinks and orange when the sun sets.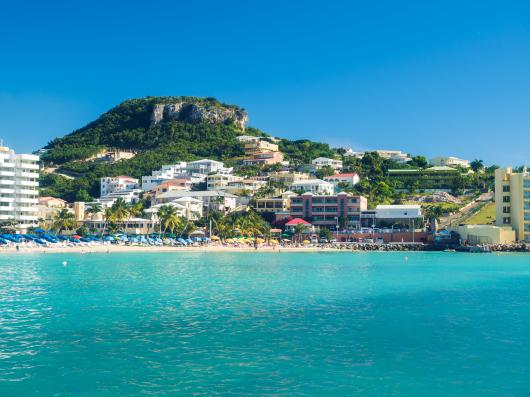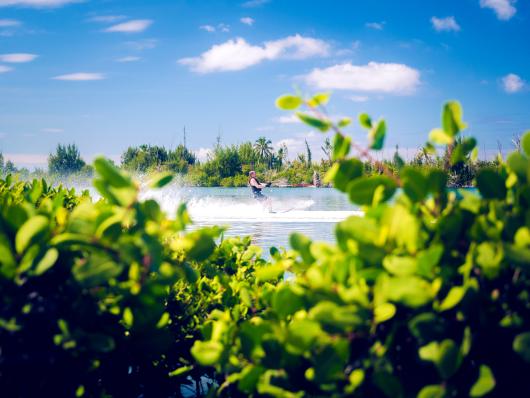 Caribbean Fusion 
Foodies looking for a vibrant and diverse dining scene don't have to look any further than Simpson Bay. The Simpson Bay strip is lined from start to ending with fine dining, outside grills and just about any dining experience you can imagine. Indulge in the best local food the island has to offer, or feel like you are traveling any part of the world with Italian, Middle Eastern, Mediterranean, French and Asian food just at your fingertips. 
In the Center of it All
Beyond the dining experience, the nightlife of the island is at the heart of Simpson Bay, filled with beach bars, lounges, nightclubs and casinos. During the day you have plenty of opportunity to take it slow by lounging on Simpson Bay Beach or catching a glimpse of its beautiful shores on board a boat day trip.
 
Simpson Bay is the epicenter of St. Maarten's vibrant cuisine experience. The Simpson Bay Strip is known for its full-of-life hotspots as diverse as they come.