A country with a reputation of upholding values of hospitality and compassion, an emphasis on being welcoming to all, and tourism that goes beyond boundaries of its resorts – all priorities of mine when choosing a travel destination. To discover the normalization of these values on a grand scale within a Caribbean island that is also warmheartedly welcoming to the LGBTQ+ community was like finding a needle in a haystack… and that we did! Sint Maarten is defying the odds and paving the way for a real paradigm shift within the Caribbean. This is not only taking root in SXM's touristic pursuits but also in its political scene. One of the island's prominent political parties, Party for Progress, is led by Melissa Gumbs, SXM's first openly LGBTQ+ member of Parliament. In conversation with the rising MP, she stated that she hopes "to be the example, because it is up to us -- this generation -- to shift the narrative and push for change." My partner Barry and I had the opportunity to spend six days on "The Friendly Island," and I've singled out three of our favorite LGBTQ+ friendly experiences in St. Maarten below.
Upon entering Emilio's, a Caribbean French fusion restaurant, we were spellbound by the expanse of wooden trusses bolstered upon walls made of local stone and mortar that seemed to be, themselves, historical archives. An ancestral energy was immediately palpable, but the depth of its resonance wasn't made clear until we took a private tour with the restaurant's co-owner, Norman Wathey. Norman shared that the restaurant's name is in honor of the late Emilio Wilson who was a pioneer and a "true bad ass." Housed on land that was formerly the island's largest plantation, Emilio, a grandson of a slave, purchased the very estate that his ancestors were enslaved on and turned it into a public park in their memory. Norman also mentioned that Emilio was a part of the LGBTQ+ community, openly living in his truth during the 1940s, 50s, and 60s; and Norman took pride in declaring, "it was not an issue in St. Maarten, and the concept of the restaurant is to revere Emilio's legacy." Like its namesake, it's a well-known and respected local favorite. With fantastic cocktails that are whimsically enticing in presentation, superb dishes (some of our favorites included the Seared Foie Gras, Charred Garlic Octopus, Pan-Seared Duck Breast, and the West Indian Seafood Soup), and an exhibition that celebrates Emilio's life, the restaurant pays a lovely homage to an incredible trailblazer.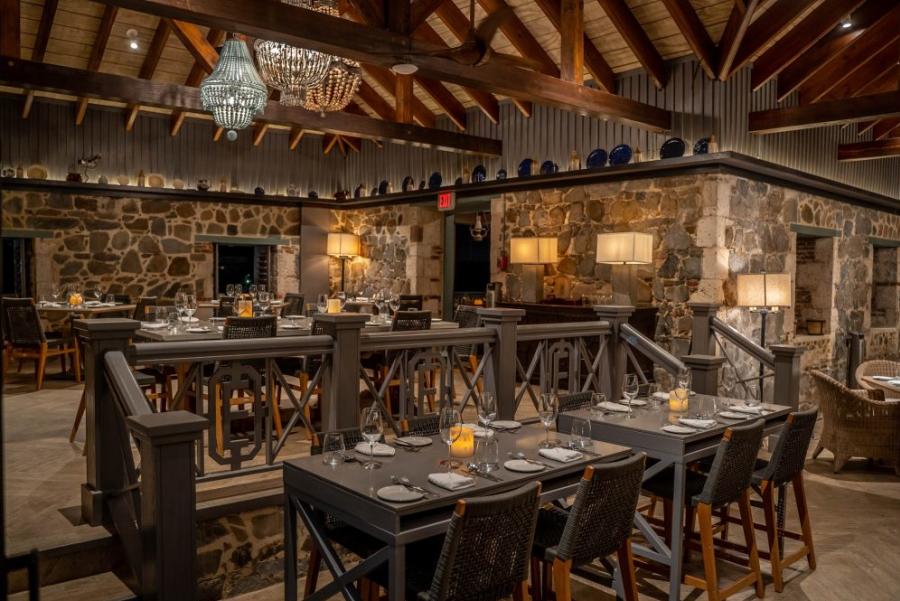 The Dutch Blonde Beach Bar:
The Dutch Blonde Beach Bar, centrally located on the boardwalk of Phillipsburg, is a convergence of entertainment, libations, food, and gorgeous beach views. This feel-good, open-air venue sits on the 2nd level of a windmill and the aesthetic is contemporary chic with greenery-filled walls equipped with neon lights and festive swings. We lucked out by stopping in around sunset on a Friday, which is a hit among locals since Fridays are karaoke nights. With patrons from all walks of life, the Dutch Blonde Beach Bar welcomes everyone with wide-open arms. In addition to making a few karaoke requests of our own, we enjoyed a number of good eats, including burgers, authentic Dutch pancakes, local brews and cocktails. Their signature beer "Naughty Blonde" was a highlight! All in all, this spot is an absolute must-visit when in Phillipsburg.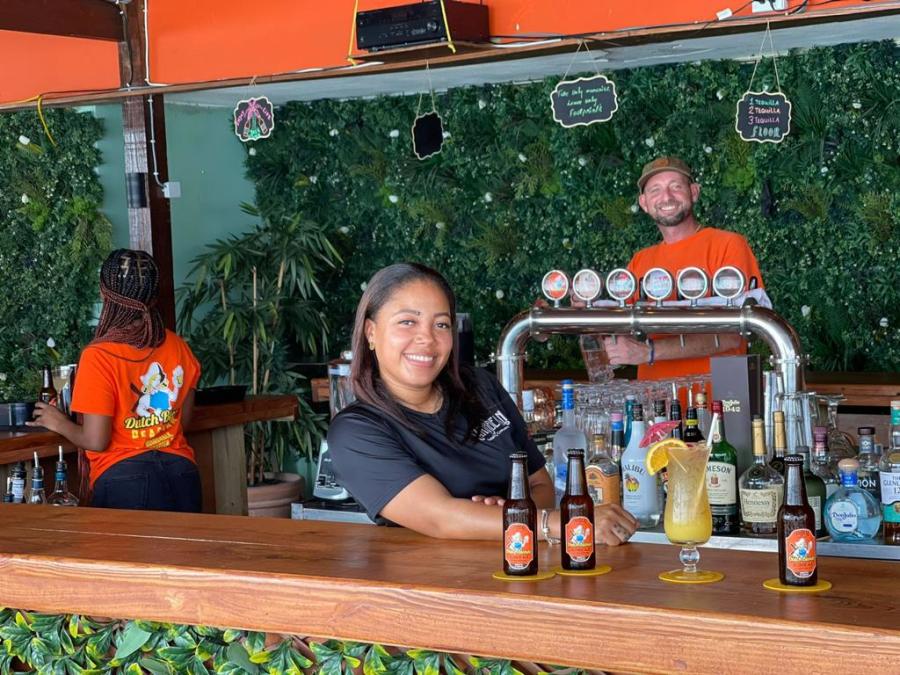 Seaside Nature Park:
Perhaps one of the most stunning, romantic, and serene experiences of our trip was horseback riding at Seaside Nature Park. We felt supported, at ease, and even encouraged to be our authentic selves as we traversed what seemed to be several ecosystems contained within the park's 30+ acres. Our guide, Vera, exuded a radiant level of pride and care for the horses, spoke about the history of the stables and farm, and shared a touching story of the horses' resilience and survival through Hurricane Irma. She led us on trails that took us through breathtaking scenery that included areas of lush trees, a rocky coastline with captivating views of the distant neighboring islands, desert-like hills with countless patches of tall cacti, and, our favorite moment, taking our horses for a cooldown ride, waist-deep, in the Caribbean Sea. Butterfly season was in full effect as there were moments during our ride where tiny white butterflies were so plentiful that they created an illusion of soft snow flickering in the breeze. And just when we thought it couldn't get any better, our romantic journey was capped off with a gratifying Guavaberry Rum Punch -- the perfect ending to an unforgettable experience!
Finally, as an honorable mention to the the French side of the island, I'd like to highlight Loterie Farms, as well. Contrary to its name, which may conjure imagery of agriculture and livestock, Loterie Farms is an expansive 135-acre property comprised of lush forestry. With Miami-meets-Vegas vibes in certain areas, it's also wholesome enough to bring along the family, yet it oozes opulence and adventure while simultaneously feeling laidback and welcoming of the LGBTQ+ community. The approach to this property while driving was an impressive statement as we were greeted with views of Loterie Farms' seemingly infinite terrain of vegetation, hills, and valleys that could easily serve as backdrops for a Jurassic Park film. I highly recommend allocating at least half a day to experience this place as there is something for everyone: hiking trails, zip-lines, excellent food and beverage options, an outdoor pool club with private cabanas, and so much more.