COVID-19 Updates
Your Home away from Home Welcomes you Back
The Government of St. Maarten is continuously monitoring global developments to ensure the safety of our visitors and citizens. We advise to regularly check our updates pertaining to entry requirements and protocols before your travels.
Last Updated: March 1st 2022
A MESSAGE TO OUR VISITORS
Since March, we've all been staying home, wearing masks, and social distancing for the safety of all our citizens, and our visitors. The time away has been a bitter moment for all of us, but The Friendly Island is proud to announce that we are welcoming back our international visitors to our beautiful shores. We kindly ask our visitors to read our safety protocol and travel requirements below before traveling to St. Maarten. See you soon!
To ensure the safety and well-being of visitors and residents, entry requirements will be in place for visitors to enter St. Maarten along with other safety measures at the Princess Juliana International Airport.
Due to the COVID-19 epidemic Sint Maarten has established a mandatory health pre-authorization application through an Electronic Health Authorization System (EHAS) for every visitor arriving by air including transits, Sint Maarten and Saint Martin residents. Without the health pre-authorization boarding will not be possible. Be advised that processing time can take up to 12 hours. For visitors arriving by ferry boat from St.Kitts and Nevis, Anguilla, St. Barth's, Saba and St, Eustatius and cruisers without an agent health pre-authorization application through the Electronic Health Authorization System (EHAS) is mandatory as well. Other maritime vessels please read the latest requirements here.
The requirements vary depending on the country risk and vaccination status. Please scroll down.
All fully vaccinated travelers:  The EHAS application must be completed. The date of completion of vaccination must be submitted as well as valid proof of vaccination (official country vaccination card or QR code, full name and name, dates administered and batch number(s) of vaccine) from the country where the vaccine was administered. A received booster shot must be indicated in the appropriate field and proof thereof (official country vaccination card or QR code) must be uploaded as well. A booster shot has to be administered at least 14 days before departure.
You are considered fully vaccinated with an accepted vaccine :

2 weeks after the second dose in a 2-dose series, such as the Pfizer, Moderna, Astrazeneca, Sinopharm, Sinovac/Coronavac and Covishield vaccines, or
2 weeks after a single-dose vaccine, such as Johnson & Johnson/Janssen vaccine, or
2 weeks after the second dose in a 2-dose series combination of a single dose Pfizer or Moderna with a single dose Astra Zeneca, or
2 weeks after a single-dose of vaccine after a confirmed COVID-19 infection within 6 months before the vaccination (to be stated on proof of vaccination in absence of a digital COVID-19 infection certificate).
the accepted Covid-19 vaccines are: Comirnaty (Pfizer), Spikevax (Moderna), Vaxzevria (Astrazeneca), Johnson & Johnson/Janssen, Covishield (Astrazeneca), Sinopharm and Sinovac/CoronaVac.

Travelers who have recovered from a Covid-19 infection within 9 months before departure must upload an acceptable proof of recovery:

A government / public health authority issued proof of recovery (Digital Covid Recovery Certificate or letter)
A lab issued positive covid-19 PCR test result also indicating a Ct value of 35 or higher.
A signed and stamped Covid-19 recovery letter from a physician accompanied by the positive Covid-19 PCR test result.

All non- fully vaccinated and those with a past Covid-19 infection older than 9 months, are required to have a negative Covid-19 test in accordance with the required type of test. For the age category of 5 up to 10 years, an oropharyngeal swab will also be accepted.
The government of Sint Maarten has implemented a mandatory COVID-19 insurance for all travelers with destination Sint Maarten with the exception of Sint Maarten residents, transit passengers departing the same day, flight crews, transiting cruise ship crews, French nationals residing in France or a French territory, BES-ZVK insured and AUC faculty and students. The insurance purchasing process is an integrated step in the EHAS application. Travelers requiring the COVID-19 insurance must complete this process upon application. For more information on and all questions related to the COVID-19 insurance please visit www.sxmprotectionplan.com or contact customer support at info@sxmprotectionplan.com
The application must be completed in order to be processed. This includes proof of a negative COVID-19 test result, information on the vaccination status (including official proof of completed vaccination in case fully vaccinated), recovery information on a Covid-19 infection and the purchase of the mandatory COVID-19 insurance in case required. Children must have the online health form filled out by their parents. Provide a working personal email address on which you are reachable.
All incoming passengers are subjected to temperature checks and other screening protocols and may be subjected to mandatory testing at their own expense. Failure to comply with the screening at the Health Check Point upon arrival will result in you not being cleared to enter St. Maarten and sent back to your originating country. If re-tested upon arrival you will be required to self-isolate or self-quarantine at your place of lodging/residence until the test results are known.
Applicants will receive confirmation of their accepted application. Non-completed applications will be automatically deleted within a day after the provided travel date.
If health authorization is pre-approved, you will receive a (printable) pre-authorization PDF via e-mail, which must be presented at check in and to the health and immigration authorities upon arrival. This PDF will also contain a QR code which will show the vaccination status and COVID test result when scanned. Keep the original rt-PCR or antigen test result and proof of vaccination always with you. Please check your spam/junk mail folder as well in case you haven't received a response. If health authorization is not pre-approved, you will receive an e-mail informing you that health pre-authorization has been denied.
Adherence to all other safety and hygiene protocols like social distancing, mandatory face mask wearing and hand sanitizing is required.
Transit passengers with final destination Saba, must complete an EHAS application for Sint Maarten.

rt-PCR and antigen test sample for the SARS-COV-2 virus must be obtained from naso-pharyngeal swab in adolescents and adults. An oro-pharygeal swab is accepted in case of children.
Results from covid-19 collection home test kits will not be accepted. Airlines might require you to show a negative lab test result.
The original test result to be uploaded as part of EHAS application procedure must clearly specify the name of the laboratory or clinic, full name of test subject, type of test administered, name of antigen test, sample date, source of the swab, result date and a negative result. Non-compliant test results, hand written or e-mail statements from doctors will not be accepted.
Applicants with a recent COVID-19 infection and still a positive COVID-19 test will only be granted entry with a pos rt-PCR test result when the Ct value is 35 or higher. The Ct value must be clearly indicated on the test result.
AIRLINE AND PRIVATE FLIGHT CREW
All airline, private flight and air ambulance crew must be able to demonstrate proof of full vaccination or in case not fully vaccinated, either an acceptable proof of recovery or a valid negative COVID-19 test result according to the risk category of the country of departure.
Crew members with stopovers of more than one(1) night must submit an application through EHAS. The same travel requirements as for passengers apply in these cases.
CRUISE SHIP PASSENGERS ARRIVING BY AIR 
All passengers must complete the application procedure through EHAS before departing to Sint Maarten.
Within 48 hours, before disembarking again in Sint Maarten at the end of the cruise, all passengers older 5 years and older must have an antigen test performed by the cruise line.
Applying through EHAS is not necessary when returning to Sint Maarten at the end of the cruise.
The purchase of COVID-19 insurance (see below) is mandatory when staying more than one (1) day in Sint Maarten either before or after the cruise. The insurance is only valid during the days of stay in Sint Maarten between the arrival date and return date to the country of origin.
SELF MONITORING
For travelers originating from both a high-risk and very high risk country, 5 consecutive days of self-monitoring of body temperature and possible flu like symptoms is mandatory. The travelers in this category will receive an automated daily email alert providing a link for submitting the required information online the first 5 days of their stay. If you are remaining for a shorter term on the island, you will have to submit the information for the time you are on the island. Temperature measuring possibilities will also be offered in the lobby in most hotels and other lodging facilities.
Thank you for choosing St. Maarten as your preferred vacation destination!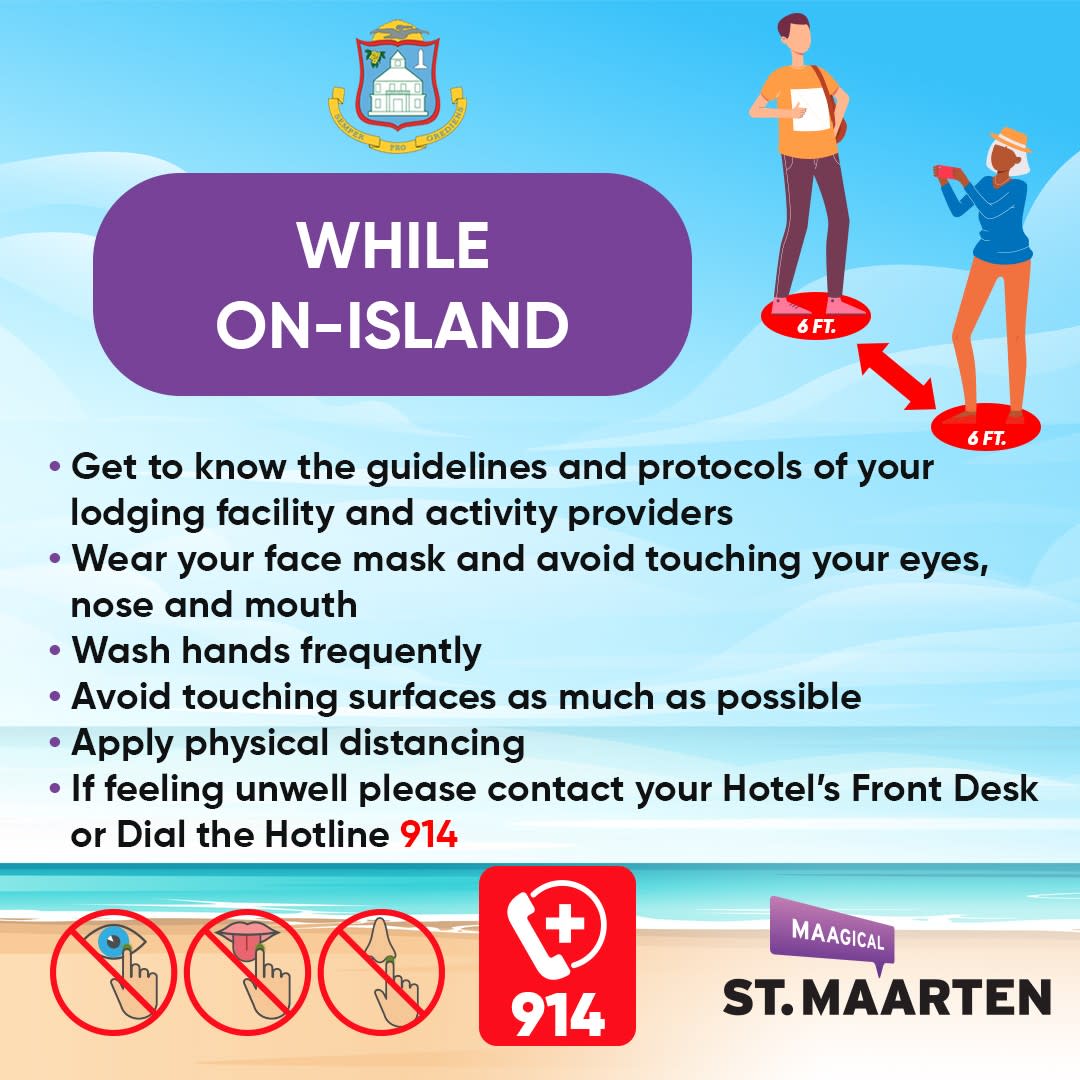 TESTING ON ISLAND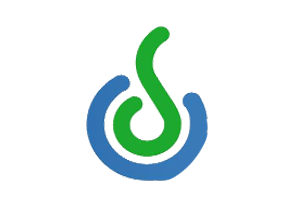 Health Care Laboratory
Orange Grove Mall Unit 12
Tel: +1721-544-1036
Email: info@healthcarelab.sx
Website: www.sxmhealthlab.com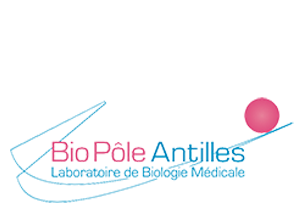 BioPôle Antilles
46 rue Manioc, Hope Estate
+590 (0) 590 77 69 77
Website: www.biopoleantilles.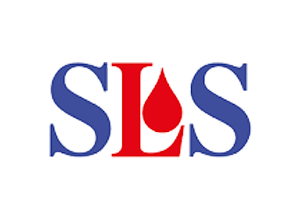 St. Maarten Laboratory Services
1G Hamster Drive
Tel: +1721-542-2518
Email: prescreening@sls.sx
Website: www.sls.sx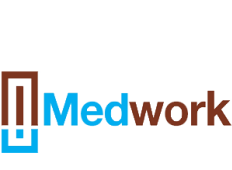 Medwork
Puerta Del Sol Plaza, Simpson Bay
Email: sxmtest@medcare.aw"
Website: www.medworksxm.com
FREQUENTLY ASKED QUESTIONS
Transit passengers are required to follow the same requirements as non transit passengers

As per January 11 2021 the government of Sint Maarten will be implementing a mandatory COVID-19 insurance for all travelers visiting Sint Maarten with the exception of residents, students of American University of the Caribbean School of Medicine St. Maarten campus, transit passengers, and flight crews.

For more information on and all questions related to the COVID-19 insurance please visit www.sxmprotectionplan.com or contact customer support.

To find a testing lab near you that administers rt-PCR tests and Rapid Antigen tests obtained from a naso-pharyngeal swab, please check the following resource; Test For Travel

There are two laboratories offering COVID-19 testing on island.

St. Maarten Laboratory Services
1G Hamster Drive
Tel: +1721-542-2518
Email: prescreening@sls.sx

Health Care Laboratory
Orange Grove Mall Unit 12
Tel: +1721-544-1036
Email: info@healthcarelab.sx

St. Maarten is now open to yachts, cruisers and private vessels. A local registered agent is required for all vessels. Please contact a local agent for more information on the protocol and to arrange your arrival. For more information you can go to the official website of The St. Maarten Marine Trade Association. If you are arriving from outside of one of the Approved countries listed then a 14 day quarantine may be required as well as a COVID-19 PCR test taken and result received within 120 hours prior to departure. As of February 12th, The PCR COVID-19 test has to be issued at most 72 hours (3 days) before departure of the last direct flight to St. Maarten.

Private planes are able to land, upon request and approval of said request, and have submitted all necessary documents and have adhered to the travel and health requirements as stated.

Yes you are able to stay on the French side.

If you are feeling unwell and suspect that you may have COVID-19, please contact your Front Desk or one of the COVID-19 task force members of your property you are staying at, or dial the hotline 914. We recommend you familiarize yourself with the property's guidelines before or upon arrival.

Travelers residing on St. Maarten are exempted from having the mandatory RT-PCR test. However, must test upon arrival at their own expense.

You can find more information on Visa Requirements and Exemptions here.
IMPORTANT LINKS

Princess Juliana International Airport
For the latest airline scheduling we advise you to visit www.sxmairport.com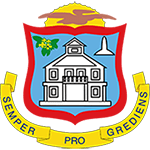 The Ministry of Public Health, Social Development and Labor
If you are displaying symptoms of COVID-19 or would like to speak to someone about this topic please refer to the below contact details:
Collective Prevention Services (CPS)
Hotline during business hours: 914
Email: EHAS@sintmaartengov.org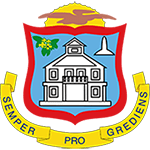 Government of Sint Maarten
For more information and updates relating to COVID-19 and the actions of Government of Sint Maarten please visit www.sintmaartengov.org/coronavirus